LNE Precision Engineering Pte Ltd/ LNE Precision Engineering (Shanghai) Co.,Ltd/ LNE Precision Plastic Machinery Pte Ltd.




Plasdan is a fully electric Multi-shot injection molding unit. It is ideal for the production of a single part of multiple materials and/or colours.  Providing turn-key solutions for the multi-shot business. Simple and economical solutions to transfer a standard Injection machines to an muilt-shots cabble machines.

Multi-Shot Solutions - Adding color to your business
Multi-shot injection molding is the production of a single part of multiple materials and/or colors.
One of Plasdan's main targets is to become market leader in providing turn-key solutions for the multi-shot business.


Multi-shot injection unit
Simple and economic solution to transform your standard injection molding machines into multi-shot capable machines.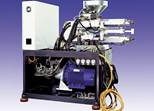 Modular Injection Unit Advantages:
High Precision and excellent repeatability
Standard Industry components
Cost saving
Outstanding flexibility
Low Maintenance
Increased efficiency
Easy Installation
Rotary Tables



Features:

Electrical Servomotor for fast, precise mold rotations Centering holes and lock pin to ensure position before mold close Mold mounting bolt pattern and knock-outs per customer request (i.e. SPI, Euromap, or custom) PLC control, with engineered interface to host machine. If Plasdan supplies the injection unit, the PLC and controls for both the rotary table and injection unit can be shared. Water and Air circuit connections on rear of unit.
Can be used for 180° (2-shot), 120° (3-shot), or other molding scenarios.
Standard components and electronics (service parts available worldwide).
C-Frame Rotary System (patent pending)


Plasdan has developed a new stack mold rotating device. The assembly, shaped like the letter "C" - and thus referred to as our "C-Frame" rotary table, offers many advantages over systems using "built-in" rotary components.
Precision Micro / Mold Fabrication.

See below for further details
We strongly believe the key to success in quality mold fabrication begins with mould design capability. We leverage on our strong design capability to deliver high quality mold by performing integrated engineering analysis from the initial design stage.

We use up to date design software  for mold design. We have accumulated and acquired rich experience in area of thermoplastic molds from size of 75mm*75mm, 1 cavity mold up to size of 600mm*800mm, 32 cavities mold with hot runner system, loose piece and reel-to-reel insert mold, double-shot mold, Lead frame mold as well as thermoset mold.
Precision / Micro Molding.

See below for further details

We are specialized in Micro mold, micro injection molding, micro mold and miniature parts. We fabricated more than 500 sets Micro Mold for Babyplast Injection machine. We have about 200 molds in factory for current production.

Micro and miniature parts are produced with Babyplast Micro Injection Machine.  Babyplast  UAI   is a plug and play injection unit  able to  working with any  Injection machine  for  2 shot micro molding.

We are well equipped with high end  & advance  Molding  Machines and Equipments. We use world class injection machines like Demag, Nissan, Sumitomo, Babyplast, etc.,
Injection Machine / Instrument & Tools.
See below for further details

LNE Precision Plastic Machinery Pte Ltd appointed as an Exclusive Agent for Southeast Asia by Babyplast Micro Injection Machine and Plasdan Electric Injection System.
With our rich experiences in Precision & Micro Mold fabrication, we are able to provide value added services to our customer by support in Tooling Design and Tooling Fabrication.